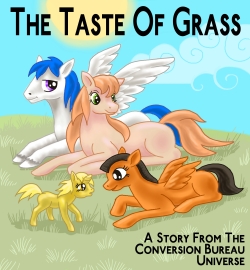 A direct continuation of '27 Ounces: A Tale of Eight And One Half Ponies', the lives of a family of newfoals from their very first arrival in Equestria is followed. Join Caprice, Alexi, Pumpkin and Buttermilk in their day-to-day lives as they adapt not only to being humans-turned-Equestrian, but struggle to help found a new village in the ever expanding Exponential Lands.

This is a story of courage, survival, and the process of bringing a new landscape under proper Equestrian dominion. Starting without weather, shelter, or understanding, these brave newfoal pioneers face daunting odds.


Together, they must learn to use the magic of both Equestria and friendship to kickstart the basic functions of Nature itself. From their first attempts to manufacture rain, to the secrets of making winter, we shall follow what the average human immigrant to Equestria would face post Conversion, alone in a new and unsettled frontier.

Knowledge of the previous novel is not needed to enjoy this tale.

One: The Exponential Land

(11th Jul)

( 4,215 words )

Two: Milk For Breakfast

(11th Jul)

( 4,635 words )

Three: Lawn For Dinner

(11th Jul)

( 3,201 words )

Four: Worth His Salt

(11th Jul)

( 2,716 words )

Five: Pool Of Knowledge

(11th Jul)

( 3,392 words )

Six: Little Schoolhouse On The Infinite Prairie

(11th Jul)

( 3,112 words )

Seven: The Land Above

(11th Jul)

( 2,032 words )

Eight: Brume Broom Boom

(11th Jul)

( 3,241 words )

Nine: Whether Thither Weather

(11th Jul)

( 2,822 words )

Ten: A Walk In The Garden

(11th Jul)

( 2,370 words )

Eleven: Thunder Road

(11th Jul)

( 2,826 words )

Twelve: Falls Mainly On The Plain

(11th Jul)

( 4,192 words )

Thirteen: Mildly In Tents

(11th Jul)

( 3,513 words )

Fourteen: In The Land Of The One-Armed Men

(11th Jul)

( 2,886 words )

Fifteen: Notta Lotta Desiderata

(11th Jul)

( 3,631 words )

Sixteen: The Cloud Tower

(11th Jul)

( 4,604 words )

Seventeen: Under A Sacred Moon

(11th Jul)

( 4,405 words )

Eighteen: Imagine There's No Heaven

(11th Jul)

( 5,402 words )

Nineteen: A Mouthful Of Love

(11th Jul)

( 3,897 words )

Twenty: Equineimity

(11th Jul)

( 5,003 words )

Twenty-One: Bathing In Moonbeams

(11th Jul)

( 3,251 words )

Twenty-Two: Cornerstone

(11th Jul)

( 3,026 words )

Twenty-Three: Dambusters

(11th Jul)

( 3,030 words )

Twenty-Four: Welcome To Equestria

(11th Jul)

( 3,268 words )

Twenty-Five: The Book Of Memories

(11th Jul)

( 4,218 words )

Twenty-Six: Whistlestop

(11th Jul)

( 3,325 words )

Twenty-Seven: All Summer In A Pie

(11th Jul)

( 4,508 words )

Twenty-Eight: Her Last Imbroglio

(11th Jul)

( 2,870 words )

Twenty-Nine: It's Only Human

(11th Jul)

( 4,613 words )

Thirty: The Permutation Bureau

(11th Jul)

( 2,083 words )

Guest Epilogue: A Taste Of Home (By Midnight Shadow)

(11th Jul)

( 3,848 words )

Guest Alternate Chapter Ten (By PeachClover)

(5th Aug)

( 3,437 words )

Complete | Rating:

Teen

113,572 words total